Online Course – Abdominal Acupuncture Part 2.
Abdominal acupuncture is founded by Dr. Bo Zhi-Yun. Based on the Shen Que Channel System (SQCS) and conventional theories, it can treat many problems by regulating Zang-Fu organs and channels. The abdomen contains not only Zang-Fu organs but also channels, which serves as pathways for qi and blood distributing from inside out. Abdominal acupuncture system offers a holistic view and a treatment based on syndrome differentiation for your application in your Chinese Medicine clinic.
You will learn about:
Introduction about Bo's abdominal acupuncture therapy (BAAT)
Background Information
Features
The measurement
Locating Points
The Basic Points
Basic points on the abdomen and their functions
Needling depth on three levels
Abdominal Map
Point Index
How to locate all points on the Abdominal Map
Methods & Applications
Point Combinations
Point combinations:
– Abdominal Four Gates
– Heaven – Earth Needles
– Leading Qi to the Source
– The Wind – Dampness point
– Regulating Spleen-Qi
Treatment plan of common disease:
Point Combination for upper respiratory infection (URI)
Point Combination for Cervical spondylosis
Point Combinations for Acute gastro-enteritis
Point Combinations for Shoulder peri-arthritis
Supplementary points
This Online Course includes:
Free Introduction Course
Online Course – 1 hours and 10 minutes
Bonus: Download our Abdominal Map
Certificate: After you finished watching each lesson click "Mark Complete", once all lessons are completed you can download the Certificate. You can find a download link on the main page of your purchased course.
Do you have more questions? Contact us here!
CPD Approved:
70 minutes of CPD (Acupuncture NZ)
Certificate: by Wushan TCM – Chinese Medical Network in China
What our students say:
"Abdominal Acupuncture course 2 gives a more detailed follow up from the first course. Tim gives the indications for some simple points, basic rules of AA, depths of needle insertion and the actions and reasons for using different depths. Finally he gives useful combinations and treatment of some conditions. This is a useful, interesting, and above all, practical guide that can quickly and easily be transferred into the clinic and treatment of your patients. A good addition to your acupuncture toolbox. I look forward to learning more about this style."
Fiona Jennings
Want to learn more?
Correction of the title: 神龟疗法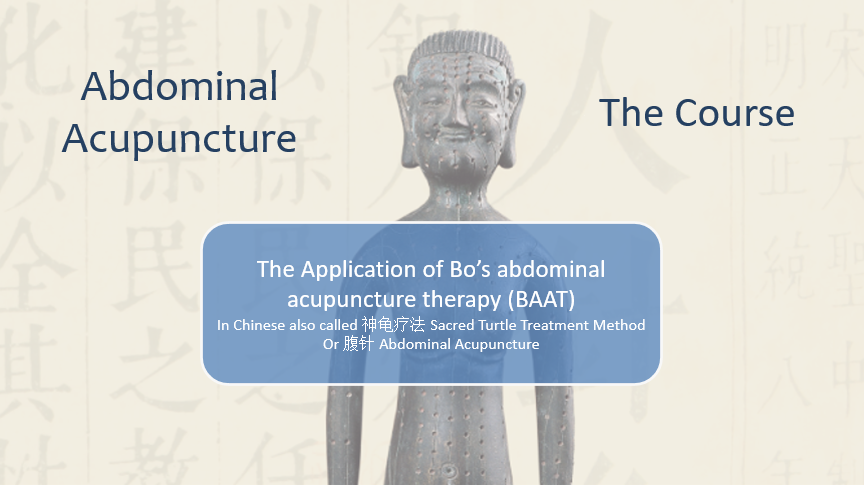 Correction of the location: 1 cun lateral to Hua Rou Men (ST24)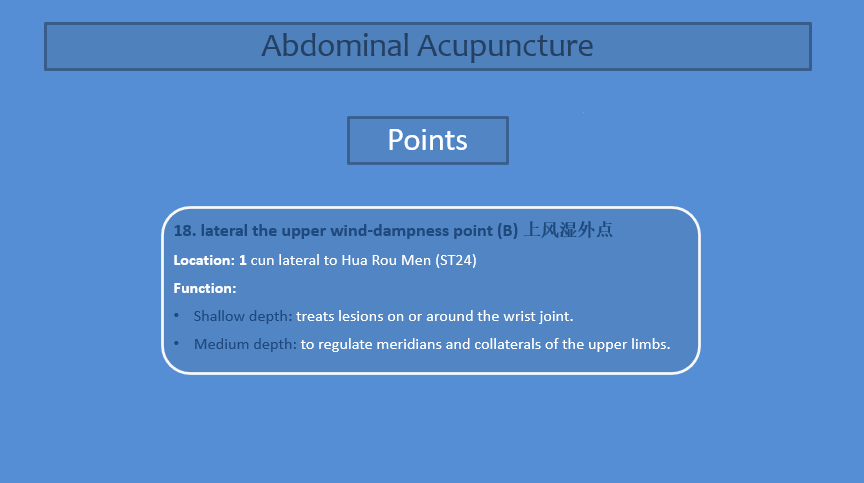 About Instructor

Login
Accessing this course requires a login. Please enter your credentials below!