Online Course – Abdominal Acupuncture Part 1.
Abdominal acupuncture is founded by Dr. Bo Zhi-Yun. Based on the Shen Que Channel System (SQCS) and conventional theories, it can treat many problems by regulating Zang-Fu organs and channels. The abdomen contains not only Zang-Fu organs but also channels, which serves as pathways for qi and blood distributing from inside out. Abdominal acupuncture system offers a holistic view and a treatment based on syndrome differentiation for your application in your Chinese Medicine clinic.
You will learn about:
The Abdominal Acupuncture Mechanism & Background Features
About needling depth
Contraindications
Point combinations:
– Abdominal Four Gates
– Heaven – Earth Needles
– Leading Qi to the Source
– The Wind – Dampness point
– Regulating Spleen-Qi
Treatment plan of common diseases:
– Vertigo
– Menstrual pain
– Wind-stroke
– Cervical Spondylosis
– Headache
– Waist-Back Pain
– Periarthritis of Shoulder
This Online Course includes:
Free Introduction Course – 10 minutes
Online Course – 60 minutes
Bonus: Download our Abdominal Map
Certificate: After you finished watching each lesson click "Mark Complete", once all lessons are completed you can download the Certificate. You can find a download link on the main page of your purchased course.
Do you have more questions? Contact us here!
CPD Approved:
60 minutes of CPD (Acupuncture NZ)
Certificate: by Wushan TCM – Chinese Medical Network in China
Want to learn more?
Correction of the title: 神龟疗法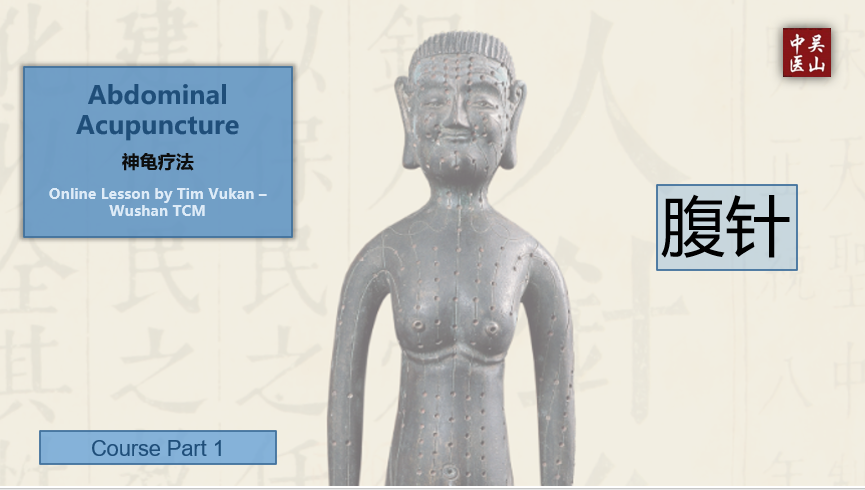 About Instructor

Login
Accessing this course requires a login. Please enter your credentials below!