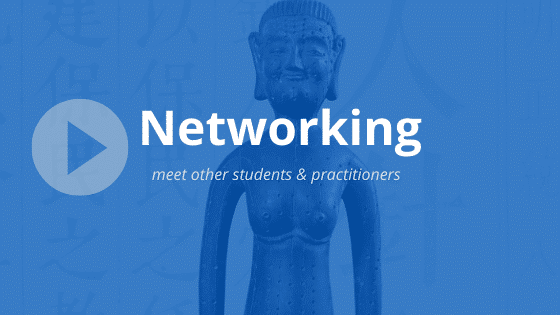 Interview about Zhang Zhong Jing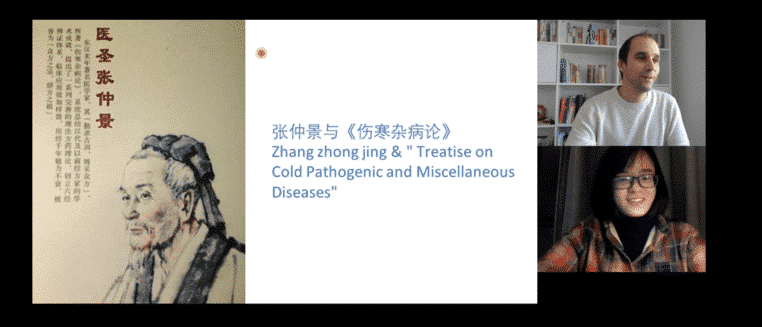 张仲景与《伤寒杂病论》
Zhang Zhong Jing & " Treatise on Cold Pathogenic and Miscellaneous Diseases"
小白:嗨,听众朋友们大家好,欢迎收听今天的中医课堂。
A : Hi, listeners, welcome to today's Chinese medicine class.
小黑:今天我们要讲述的是医圣张仲景和他的医学巨著《伤寒杂病论》。
B: Today we are going to tell about the medical sage Zhang zhongjing and his medical masterpiece " Treatise on Cold Pathogenic and Miscellaneous Diseases ".
小白:话说东汉末年,战火纷飞,疫病流行,成千上万的人被病魔吞噬。张仲景的家族本是个大族,结果不到10年就死了100多人,而且大多死于"伤寒"。
A: At the end of the Eastern Han dynasty, there were wars and epidemics, and thousands of people were devoured by diseases. Zhang zhongjing's family was a big one, but more than 100 people died in less than 10 years, mostly caused by cold pathogenic disease.
张仲景痛下决心,发奋学医,对伤寒病的诊治尤其重视。最终,他融合前人经验和自己的临床成果,完成了《伤寒杂病论》这一医学巨著。
Zhang zhongjing made up his mind to study medicine and paid special attention to the diagnosis and treatment of cold pathogenic disease. Finally, he combined his predecessors' experience with his own clinical achievements to complete the medical masterpiece Treatise on Cold Pathogenic and Miscellaneous Diseases.
小黑:《伤寒杂病论》在历史上有着深远的彫响,是历代学习中医的必读教科书。
Treatise on Cold Pathogenic and Miscellaneous Diseases has a profound impact in history and is a required textbook for learning traditional Chinese medicine.
其伤寒部分总结了外感病的一些规律,杂病部分则主要论述内外、妇等科杂病。
The part of Cold Pathogenic summarized some rules of exogenous diseases, while the part of miscellaneous diseases mainly discussed miscellaneous diseases of Internal, external, gynecological and other miscellaneous diseases.
其贡献在于,将《黄帝内经》的理论原则与临床实践做了紧密结合,并将东汉以前药物、方剂、诊断的零散经验,进行了整理和提升,使之更加系统化。
His contribution lies in the close combination of the theoretical principles of The yellow emperor's Canon with clinical practice, and the arrangement and promotion of the scattered experience of medicine, prescription and diagnosis before the eastern Han dynasty, so as to make it more systematic.
书中选录的方剂也非常实用有效,被后人称为"经方"。
The prescriptions selected in the book are also very practical and effective, and are called "Jing fang(Classic formula.)" by later generations.
小黑:是的,张仲景之所以被后人称为医圣亦是因他所著的《伤寒杂病论》在治疗疾病上的神奇效果,其中的经方现在也广泛的应用于临床诊疗之中,而且对症加减能够治疗很多临床疾病。
B: Yes, the reason why Zhang zhongjing is called a medical sage by later generations is also because of the magical effect of his book " Treatise on Cold Pathogenic and Miscellaneous Diseases " in the treatment of diseases, Among which, Jing fang is now widely used in clinical diagnosis and treatment, and adding and subtracting drugs according to symptoms can treat many clinical diseases.
小白:你知道么,张仲景其人很是具有传奇色彩呢,他曾经出任过长沙太守,任职期间在衙门大堂免费为当地老百姓诊病,所以现在人们称门诊医生为"坐堂医"。
A: Do you know that Zhang zhongjing is a legendary person? He once served as the head of the government of Changsha. During his tenure, he provided free medical services for the local people by sitting in the hall of the government. So now people call outpatient doctors "sitting doctors".
小黑:涨知识了,那你知道我们冬至吃饺子的习俗也来自于仲景么?
B: Wow, I see. Did you know that the custom of eating dumplings on the winter solstice also comes from Zhongjing?
小白:这个我有点孤陋寡闻了,快讲讲。
A: I'm a little out of my mind about this. Please tell me about it.
小黑:相传当时张仲景回老家南阳准备过春节,在路上遇到很多饥寒交迫的人们,耳朵手脚都被冻出冻疮,仲景开了中药支起大锅为这些百姓分发汤药,剩下的药材则剁碎用面包裹成耳朵的形状让大家伙吃掉,
B: It was said that Zhang zhongjing back to hometown to celebrate the Spring Festival in Nanyang, where he met a lot of hungry people, whose ears, hands and feet were frozen out of frostbite, Zhong jing wrote prescriptions of traditional Chinese medicine and set up a large pot to distribute decoction for these people. The rest of the medicine was chopped up and wrapped in flour in the shape of ears for everyone to eat.
人们为了怀念仲景同时为了预防疾病,就形成了在冬至当天吃饺子的习俗。
To remember Zhong jing and to prevent diseases, people formed the custom of eating dumplings on the day of winter solstice.
小白:由此可见,张仲景不仅是一位伟大的医生,同时他还是一位心系百姓的官员。
A: It can be seen that Zhangzhongjing was not only a great doctor, but also an official who cared for the people.
小黑:是的,我想也正是因为张仲景心怀苍生的善念,持之以恒的学习医学才成就了他的《伤寒杂病论》一书。
B: Yes, I think it is because of Zhang zhongjing's Good thoughts of dedication to the people and his persistent study of medicine that his book " Treatise on Cold Pathogenic and Miscellaneous Diseases " finally came out.
小白:嗯。关于仲景的故事还有很多,有兴趣的听众可以多多的去了解这位苍生大医。
A: Well. There are many more stories about Zhong jing. If you are interested, you can learn more about him.
小黑:我们今天的节目就到这里了,感谢聆听。再见。
B: That's all for today's program. Thanks for listening. See you later.
Translated by Wang Xiang Li, Hangzhou (China) in February 2020